Discover more from VIEWS ARE MY OWN
The online business community for people that want to grow their audience, improve their marketing and sell more.
Over 10,000 subscribers
Don't Let the Seasonal Sales Slump Ruin Your Christmas 🧑‍🎄
Ho-Ho-Holy Sh*tballs where have my sales gone?
Welcome to this month's free Christmas special of the VAMO Newsletter. 👋
We send weekly editions to help you market better, grow your following, and sell more. 
If you're not a subscriber, here's what you missed last month 👇
Subscribe to access these posts, and unlock the full back catalogue of 50+ resources. 
---
Should I Expect a Seasonal Sales Slump? 🧑‍🎄
Up to 75% of B2B Founders say they experience some form of a seasonal sales slump. Bah Humbug. 
Our B2C friends might be enjoying their busiest time of the year, but running a B2B can be more stressful than burning your pigs in blankets. 
The good news is, it doesn't have to be that way. 
We might have singed a sausage or two, but we've never suffered from a seasonal slump. 
If you're getting frustrated with the "let's catch up again in the new year" gang, here's how you can cope: 
#1: Don't stop prospecting, even if decisions might not be made until the new year. 
Decision makers are planning for a big new year so show them how you can help them achieve it. 
If you accept that December is a slow month and down your prospecting tools, we guarantee you'll have an ever slower start to next year. And quiet January's can be fatal for businesses. 
Don't get caught with your pants down…
A lot of businesses have budgets they need to shift before the end of the year. If you stay active, it could end up in your account. 
---
#2: Take advantage of others slowing down 
I don't know about you, but we receive a lot fewer sales pitches during December. 
Fewer DMs.

Fewer e-mails.

Fewer cold calls. 
And guess what? Your prospect is likely to be experiencing the same. 
This means your pitch is competing with less competition. 
Don't let the holiday slumber affect your motivation to do the basics. Every. Single. Day. 
Want to know how to generate leads daily? Read this 👇
---
#3: Increase content marketing 
Hands up who loves Christmas TV? 
Unless you're into Mrs. Brown's Boys or Michael McIntyre Christmas specials, you're going to be on the hunt for something decent to watch. 
And who hasn't had a cheeky glance at their LinkedIn feed during the Christmas party? 
People love to consume during the holiday season. That's why we put out more content in December than in any other month of the year. 
Our YouTube channel views always spike around this time of year:  
With people taking time off, there are fewer meetings and a reduced workload. By putting content marketing out consistently in December, you've got a great chance of getting noticed. 
But please, no tired '12 days of Christmas' campaigns. If that's the best you can come up with, it might be time for a creative break and go again in January. 
---
VAMO's Favourite Christmas Ads 
What was your favourite Christmas ad this year? 
Sadly, Mike and Dan we're less than impressed with this year's crop. In fact, Dan said he wanted to "smash Asda in the face" for what they did to his all-time favourite Christmas movie, Elf.
But, like a little Christmas miracle, we did find one campaign that the two Grinch's actually enjoyed. We had to go all the way back to 2017 and show them Poundland's Naught Elf on the Shelf ads.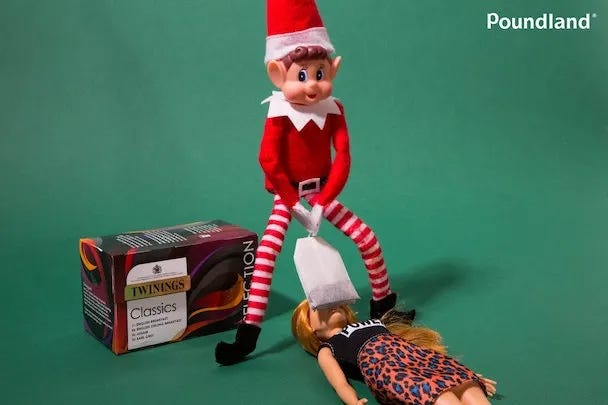 They released a series of images on Twitter. One of him tea bagging a doll, one riding a donkey, and another of him watching porn in a hot tub. 
Usurpingly, the ads did get the company in a bit of bother. The angry internet mob felt they were "sexualising children's toys". 
Even Twining's the teabag company complained so they had to switch the tea bag for a generic one. 
As Dan frequently reminds us, all the best ad campaigns get pulled. 
"There's no such thing as bad publicity"  
And given we're still talking about this one all this time later, he might be right. 
---
Christmas Special Podcast  🎙️
The VAMO team would love you to pull up a virtual seat and join their Christmas meal in this month's VAMO podcast. 
There was booze, arguments, and we all needed a big nap after it. So, it was very much your standard Xmas lunch. 
Mike shared his Thailand experience. Lindsay Lohan convinced us to try Pilk (Pepsi and milk combined). And Mike and Dan faced off in this year's VAMO Christmas ad competition. 
Defo one to watch, which you can do here 👇
---
VAMO Cash Giveaway 💸
Congratulations to Nick Tyldsley who won the cash prize of £557 in our giveaway competition. 
It's fair to say, Nick was mildly surprised the competition was real. 
This was our first experiment to see if giveaways are a useful tool to grow your following. 
The competition ran from 18/11/22 to 25/11/22 on LinkedIn and via our newsletter.
In terms of results, here are the stats: 
90 new subscribers to VIEWS ARE MY OWN mailing list
And 201 new subscribers to our YouTube channel.
Was it successful? Meh, the jury is still out . 
We're going to monitor the performance and run additional experiments before sharing the results with you in a future newsletter. 
---
That's it for this week/year. 
We Ho-Ho-Hope you have a successful end to the year, and look forward to helping you smash your sales and marketing targets in 2023. 
Thanks for being part of our VAMO community. 
If you've not already, don't forget to subscribe to our paid community.
You'll get all of this: 
⚡1 x email per week that covers sales/marketing/grow your following with a coaching video.
⚡Access to the private Slack community
⚡Early access to watch the VAMO Podcast (1 week early)
⚡Submit questions to be answered on the VAMO Podcast by Mike, Dan and the guests
⚡Community meetups
⚡Early access and discount to training sessions
For £150 for the year, it's a real no-brainer and makes a good last minute Christmas gift 🧠